Before I get started, I feel I should warn you... the text in this post has literally nothing to do with the photos. But you know, in the spirit of a "fashion-ish blog," I feel like I have to accompany any words of wit or wisdom with something pretty or cute.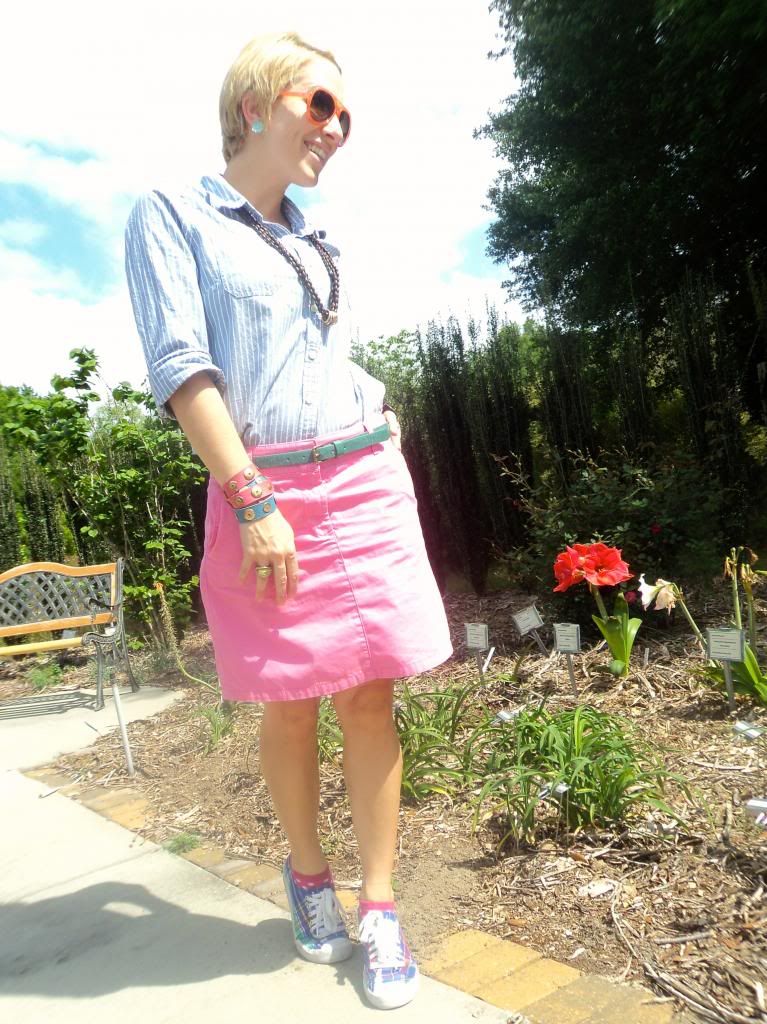 Shoes: Ralph Lauren, TJ Maxx
Belt, Bracelets, Necklace & Earrings: Target
According to my Little Guy, "teacher depreciation week" is this week. Huh, I had no idea that teachers depreciate! Who knew?
Nate, also known as the Hubs in former posts (I'm kind of over that little nickname because it sounds weird when I say it aloud), was telling me the other night that when he drops our Little Miss off at daycare, all the boys run over and crowd around her for hugs. When I asked her about it, she said, "Yah, dat mah boyees."
When I was cutting a frozen pizza Friday night (yep, we're classy like that), I decided to take a few minutes to teach Little Guy about fractions.
Me: When I cut this pizza into four pieces, it's cut into fourths. If I eat one piece, then I eat one-fourth.
Gabe: Looks at the pizza for a few seconds and then says, Then I'll have threeths?
Me: Where do Nana and Poppa live?
Little Miss: Ow-da-bama!
Seriously, you'd think she's from there the way that she says it!
Allrighty, so those are a few of the funnies my kids have said recently. Maybe I'll make this a regular thing. It's kind of fun to chat about them every once in a while, seeing as how they kind of are the most important things in my life and all.
I'm linking up today with Still Being Molly & Monday Mingle.
While you're here, don't forget to stop by and enter to win something super cool from Oasap! You have until tonight at midnight to enter!