What can you do with a pair of black riding boots?
Anything really! I love my black Sam & Libby riding boots that I got from Target before Christmas. I'm pretty sure I wear them at least three days a week. In fact, check it out. I wore them three times this past week.
These are all at about 21-ish weeks pregnant. I made a countdown today. We officially have 124 days left until we meet our little miracle surprise. My doctor doesn't know this yet, but I've already scheduled my c-section. I mean, I've scheduled it by putting it on my calendar. It happens to coincide with my dad's birthday, so . . . he better just go with it. ;) (And for inquiring minds, it' a c-section because my first was breech via c-section and my second was a c-section, so the doctor won't do anything else.)
With a dress and bright tights and trying out the sleek pixie that Ginnifer Goodwin often sports...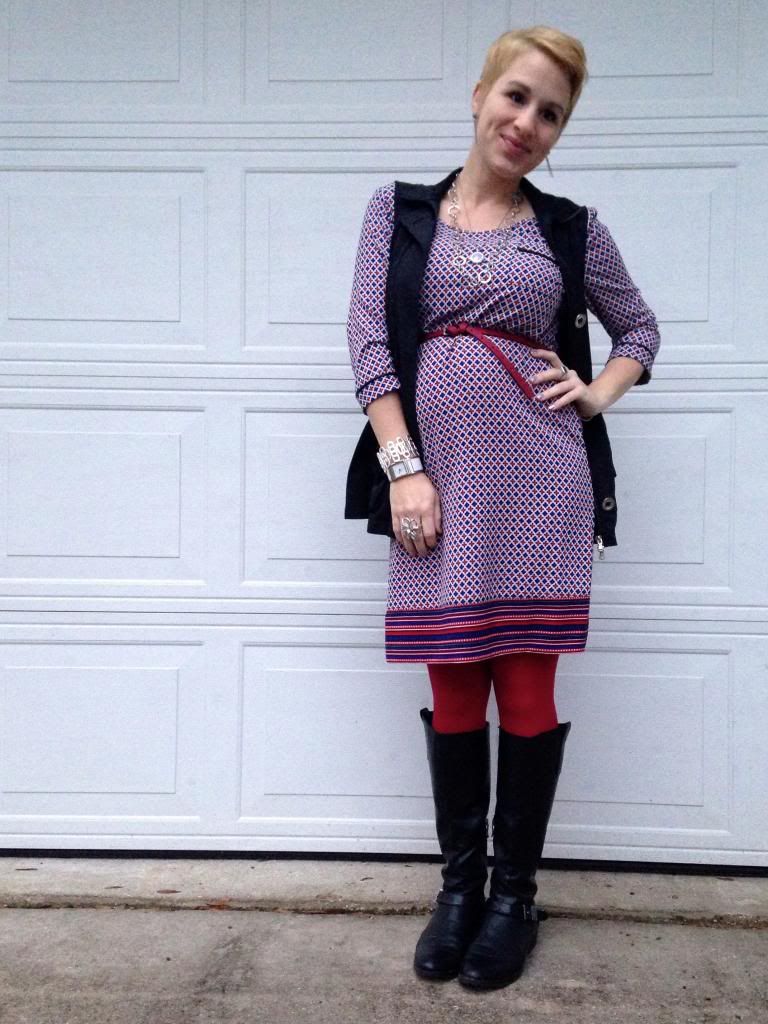 Jewelry: Origami Owl, Kohls & Premier Designs
With colored skinny pants and a denim jacket and the wild pixie that Ginnifer Goodwin also sports...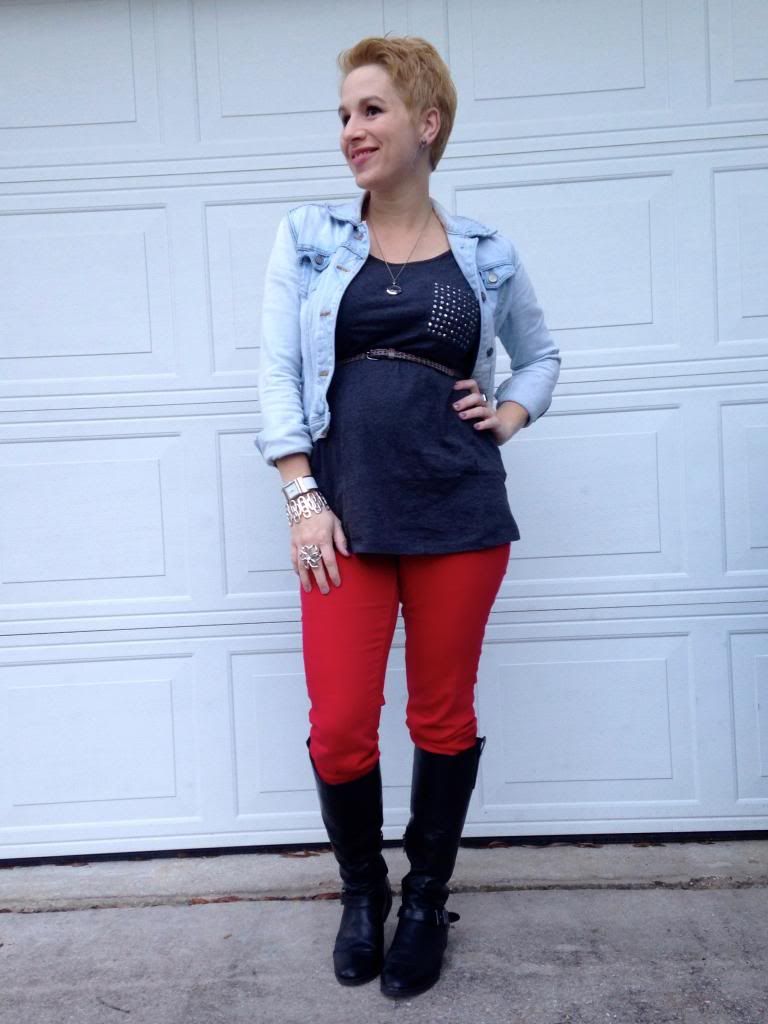 Pants: Old Navy Maternity
And whaddayaknow, I'm wearing the same jewelry as the day before. Oops.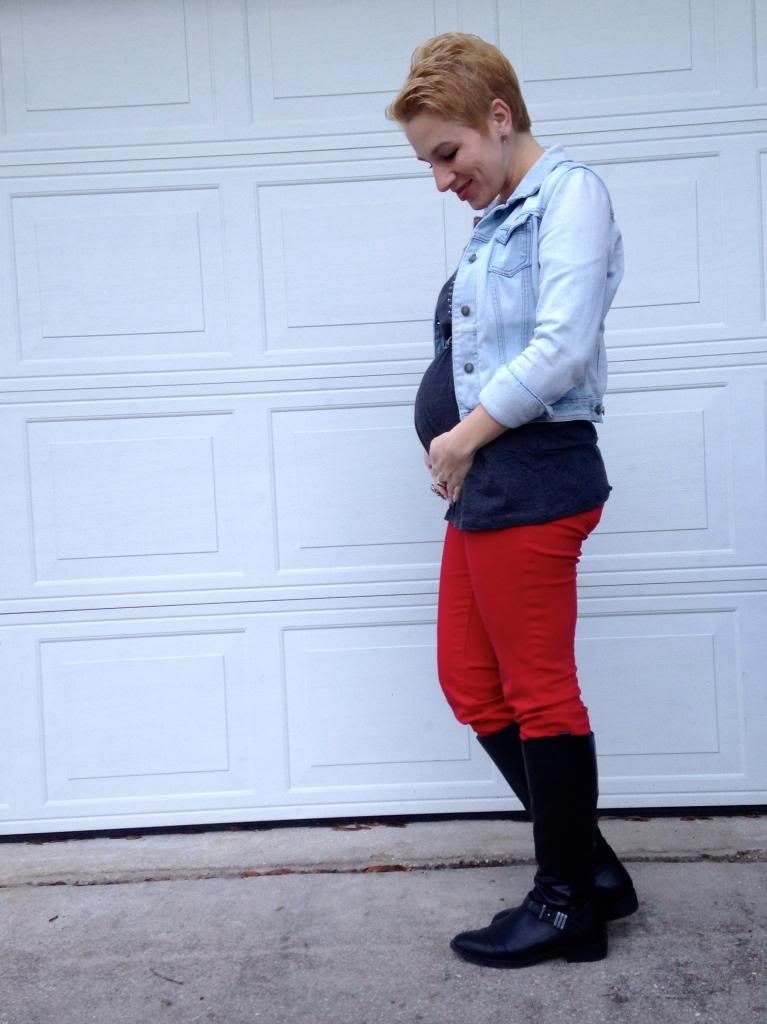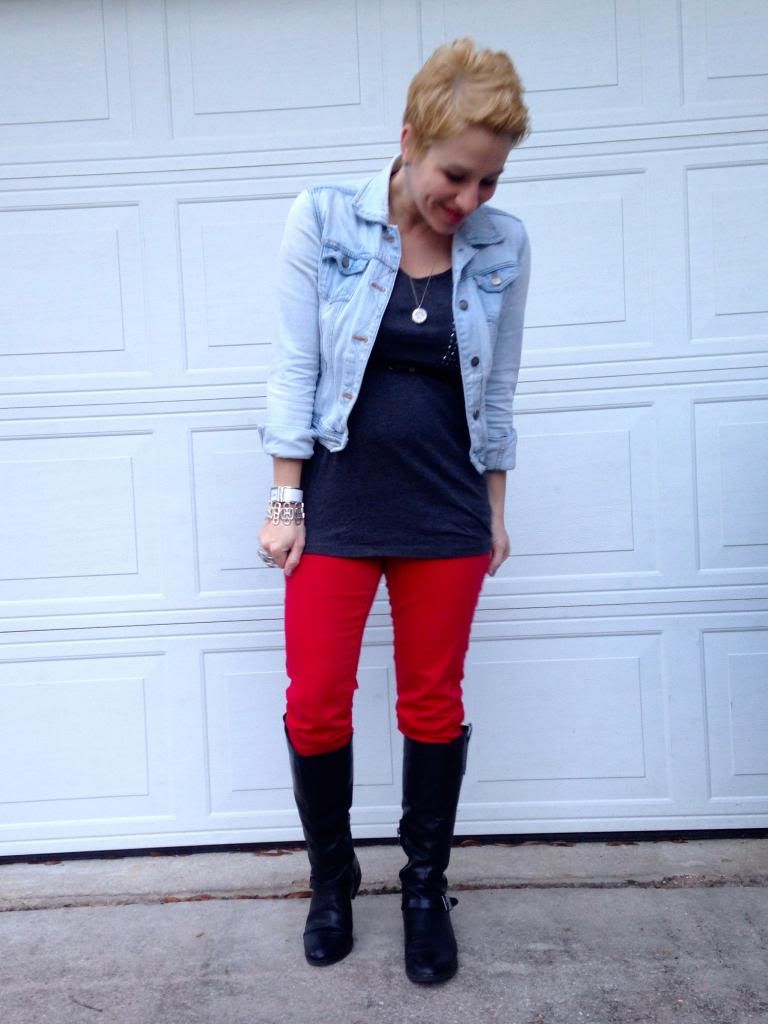 With jeans and brights…
The outfit above was worn yesterday when it was FREEZING in Florida. Literally. We actually had snow flurries that lasted all of 3 minutes and then we had what my weather app referred to as "light ice pellets" the rest of the day. Yep, welcome to an unusually frigid winter in Florida. I was yearning for spring, so I threw on my springy scarf and bright vest to accompany stripes, jeans and boots.
Did it work, you ask. Did it turn my winter blues into a love for all things cold? No, not really. All day long, I couldn't wait to run home, throw my flannel pajama pants on and crawl onto the couch. This girl is 100% OVER this winter. I long for March and warmer temps and the sand between my toes. Seriously, winter, I'd be thrilled if you leave and don't come back until November. I pinkie swear that you won't hear a single "It's too hot" complaint from me this summer.
Are you over winter, too? How are you making it through this loooong and colllld winter?
I'm linking up today with Watch What I'm Wearing, Monday Mingle, Still Being Molly, The Pleated Poppy and I Feel Pretty.