Obviously, it's possible. I mean, there are a multitude of websites out their that offer support for pregnant runners. And then there are the professional and semiprofessional runners who complete all kinds of marathons and other races while pregnant. But the question is this: Is it possible for the average girl who doesn't even quite think of herself as a runner because she's only done a few races and isn't nearly fast enough to win a race, much less place in her age group? Is it possible for the mom who likes to "enjoy" pregnancy by eating whatever she wants and putting her feet up as often as possible? Wow, that's quite the question there, isn't it? I guess it's actually two questions. Well, here's my opinion on the matter. I think it is. I think it's entirely possible, as long as you enjoy it.
See, I'm not one of those girls who has been running my whole life. I actually only started running about two years ago, but it quickly became something I loved. I had no intention of ever being a pregnant runner. Mostly because my husband had "the surgery" and we had no intention of having any more children.
Then this happened and I was - surprise! - pregnant. At the time I found out I was pregnant, I had plans to start increasing my distance again so that I could run the Centerpoint Half Marathon in April. I ran it last year and thoroughly enjoyed it. But since I'm due endish of May, I had to scratch that off the list. Running 13.1 miles at 8 months pregnant just wouldn't be very practical for me.
When I first got pregnant, I said that I'd run as long as I enjoyed it. I tentatively set myself a lofty goal of running a 15k over two bridges in February. Well, I've come to realize that's not going to happen.
Running while pregnant is different. Very, very different. The first thing I noticed about running while pregnant is that my pace is much slower. Actually, about 2 minutes slower per mile than it was pre-pregnancy. And, from my research, I've discovered this is fairly normal. So, I had to readjust my goals. Instead of running every single run to achieve a PR, I had to run simply to finish a distance.
I finally worked my way up to 6 miles and was ready to attempt my first pregnant 10k. I was so excited . . . and then it rained and rained and didn't stop. I didn't want to run in the rain and risk getting sick, so I skipped it. But at that time, I still had plans to increase my distance by a mile each week until the 15k on February 1st.
Then the flu struck our house. Just this weekend Avi got the flu. As of right now, the rest of us are still healthy, but I keep thinking that if I try to push my body to run 7 and then 8 and then 9 miles over the next few weeks that I might wear down my immune system enough to catch it. And as vicious as I've read this flu can be to pregnant women, I just can't risk it. So, my goals have changed.
Instead of attempting a 15k at 23 weeks pregnant, I'll be running the 5k.
Yep, I've decided to set my goals just a teeny bit lower so that I can actually achieve them.
In the meantime, I'll keep running 2 to 3 miles several days a week with a "long" run of 4 to 5 miles on the weekends. I figure that should keep me "in shape" enough that the 5k will be a fun run, rather than a chore. And from what I've read, the longer I can stay active, the easier recovery will be.
So, here I am, in all my pregnant running glory. ;)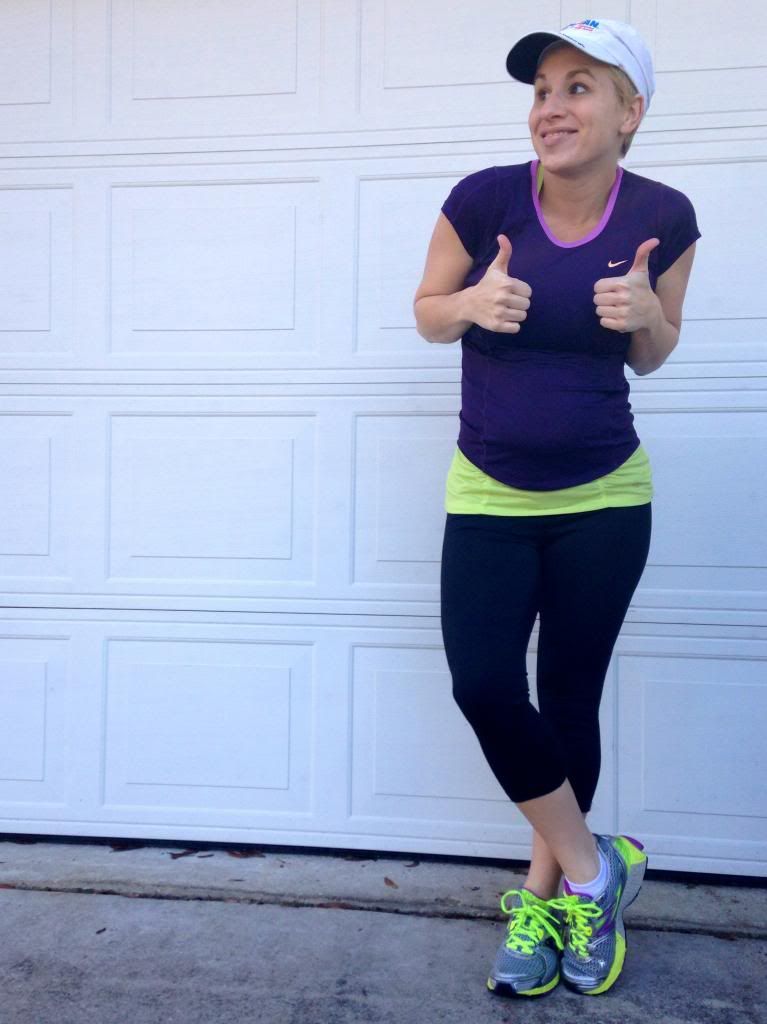 Shoes: Running Wild (a local running store)
Hat: It's my lucky Ironman hat that my husband
gave to me after he completed his Ironman.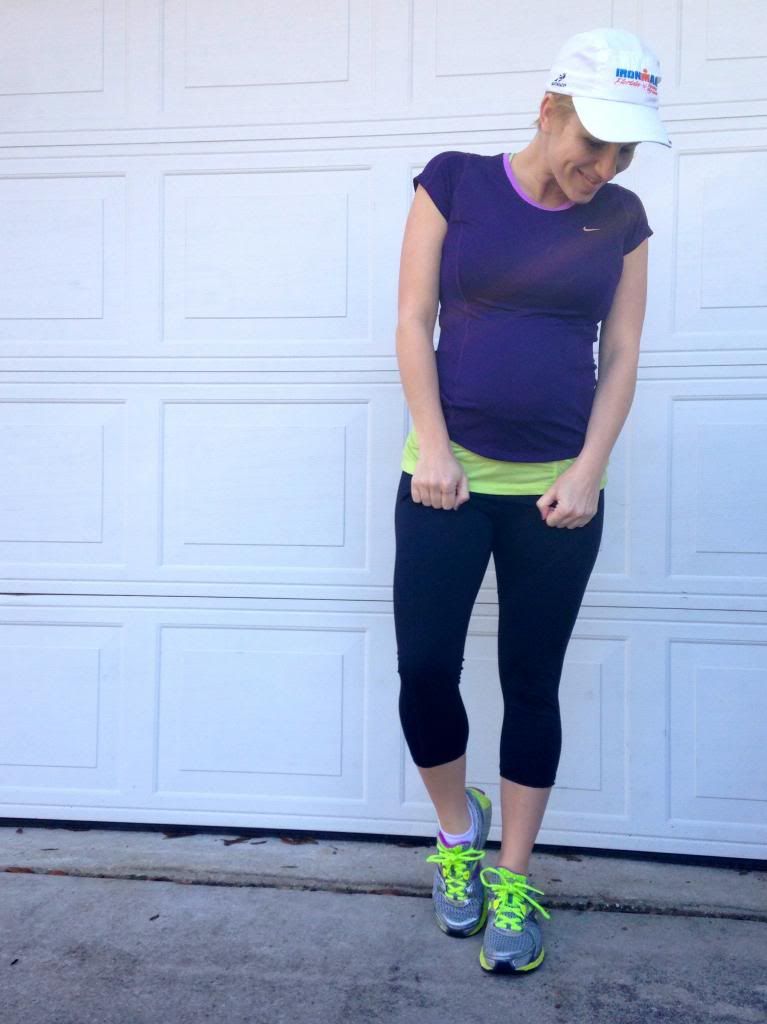 My favorite pregnant running accessory? The Prenatal Cradle. For a while, I used a different support band, but it cannot hold a candle to the Cradle. Seriously, it's probably the only thing that has enabled me to keep running as my belly gets bigger.