Well, hey there.
I know, I know, it's been . . . a year?? Already?? Wow.
I know, you're just dying to know where I've been all this time, am I right? Well, I had a baby. Yep, surprise, surprise, I was pregnant. That's what that huge bump was under my shirt. So, yeah, I had a baby, took off and became engrossed in my new business, started boot camp. My word, y'all. Boot camp is intense and so totally worth EVERY single aching muscle. Oh! And I'm a Stay-At-Home Mom now... and loving it! Is my house clean all the time like I thought it would be? Nope. It turns out you actually have to enjoy cleaning for that to happen. Ha, that's not me!
Anyways, my friend and I decided to start a fun Fashion Friday segment for our businesses. She is in the jewelry business and I'm in the pretty nail business... I mean, they go hand in hand! <<pun totally intended>> So, we made this video last week and that's when it hit me. Ah, the fun and friendly world of blogging... I miss it!
So, while we were out shopping for our Floral Invasion, I picked up this pretty number at Target on the clearance rack for a mere $6!! Wha-what???
Check out the jams that would go oh, so perfectly with this outfit that combined two top trends of 2015 - both floral and marsala!! Sweet!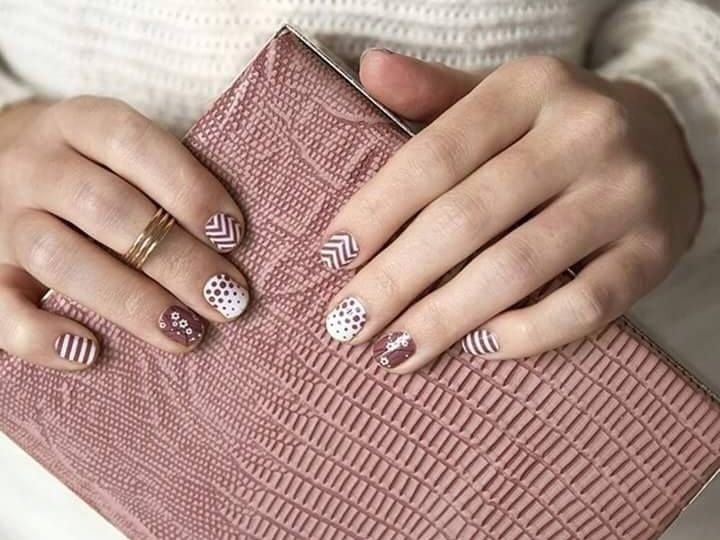 Okay, so y'all stay posted! New things are coming to the blog and they're going to be big. I'm talking huge. Like of epic proportions. Yep, you'll definitely want to stick around. =)
While we're talking about all things Marsala, which of those jams is your favorite up there? The chevron, the faded polka, the floral or the stripe? I'm loving the bold stripe!
I'm linking up today with The Pleated Poppy and I Feel Pretty.