You guys. I totally took my Stepford Wife dress and added a bit of my funky style to it and made it my own and I pink puffy heart love it!
Okay, so here's how this whole look came about. It's kind of funny.... but then my stories always are, right?!? ;)
When I started getting dressed this morning, I had big plans to wear the exact same outfit I wore when I first wore this dress a few years ago. Then I put on my pretty little cardigan and . . . it felt weird. Like it was kind of loose and baggy around my waist and really snug in my arms. Like uncomfortably snug. And then it hit me... It's my guns!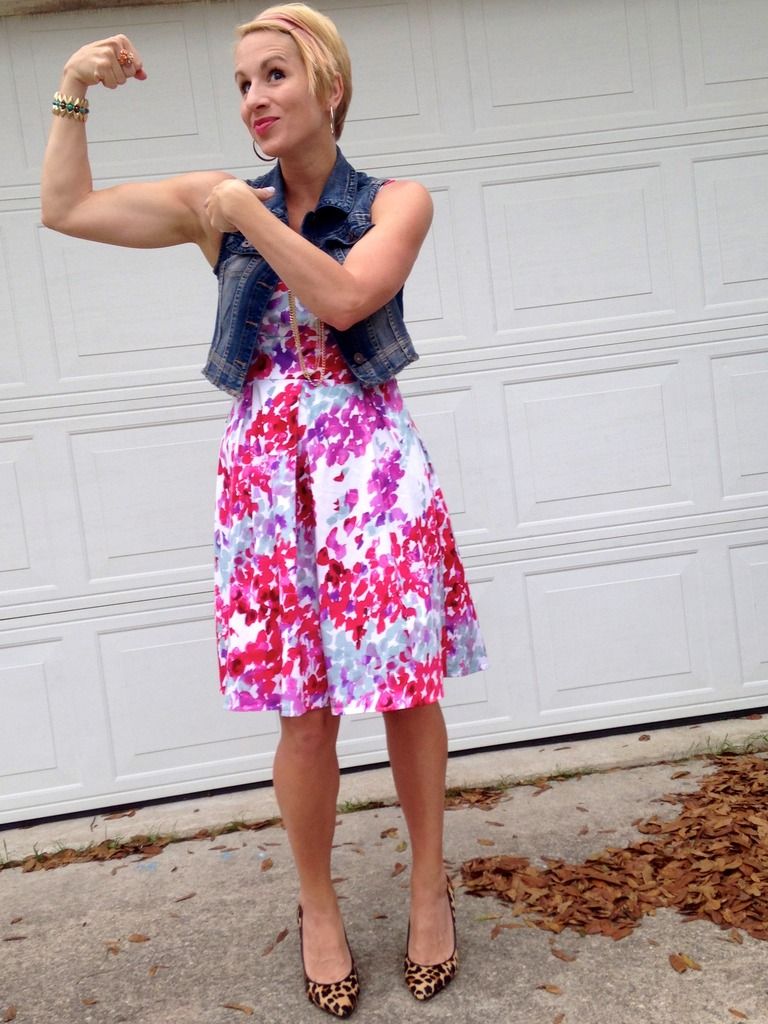 Isn't that crazy?!? I'm the girliest girl in the world and here I've got biceps that are bulging out of my cardigan. Haha! Maybe it's time to cut back a bit at boot camp? Nah. I've become a bit addicted to the sweaty high of gym hair and sore muscles.
Okay, so upon that realization, I decided to toss on my denim vest and throw in some leopard for a funky, little bit edgy, Stepford Wife look.
Anyways, ladies!! I hope you're all enjoying your Monday. Oh, wait. that's silly. Who really enjoys Mondays?? Unless, of course, you live in sunny Florida and you're heading to the beach! Because that's where I'm at today!
Oh yeah! And about my semi-edgy, prissy look up there... what do you think? Love it or Leave it?? Fabulous or Failure?? Never ever try to do that again? Or go for it? =)
I'm linking up today with Watch What I'm Wearing, Monday Mingle and Still Being Molly.