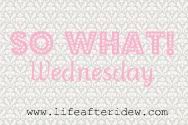 Today, I'm saying So What if . . .

1. I don't have a camera and don't have super cute outfit photos for you... I can still blog about whatever else is on my mind. =)
2. I watch the clock from about 3:00 in the afternoon, because I can't wait to pick up the kidlets from "school."
3. Little Guy thought helicopter started with A. At least, he knew apple and airplane and ants. =)
4. I don't like my job all that much. I start classes in October and will be taking my teacher's certification next year, so I don't have to put up with it for too much longer!!
5. I'm eating a granola bar right now instead of my apple. I ran this morning, so it's all good, right?
6. This seems like it's been the longest. Week. Ever!! It's Wednesday, so that means we're halfway finished and that much closer to a long weekend!