Tasty Tuesday is once again brought to you by eMeals. I'm only my second week into my eMeals subscription and I am loving it. Last time I talked about eMeals, I forgot to mention that they are not a free service... but they are totally worth the money! $21 for a 3-month subscription boils down to only $7 a month. In the first week alone, this service saved me about $30!
For a busy mom like me who is always looking for the best deal and doesn't have a second to spare for meal planning, this service works!
Here is my favorite meal from the past week.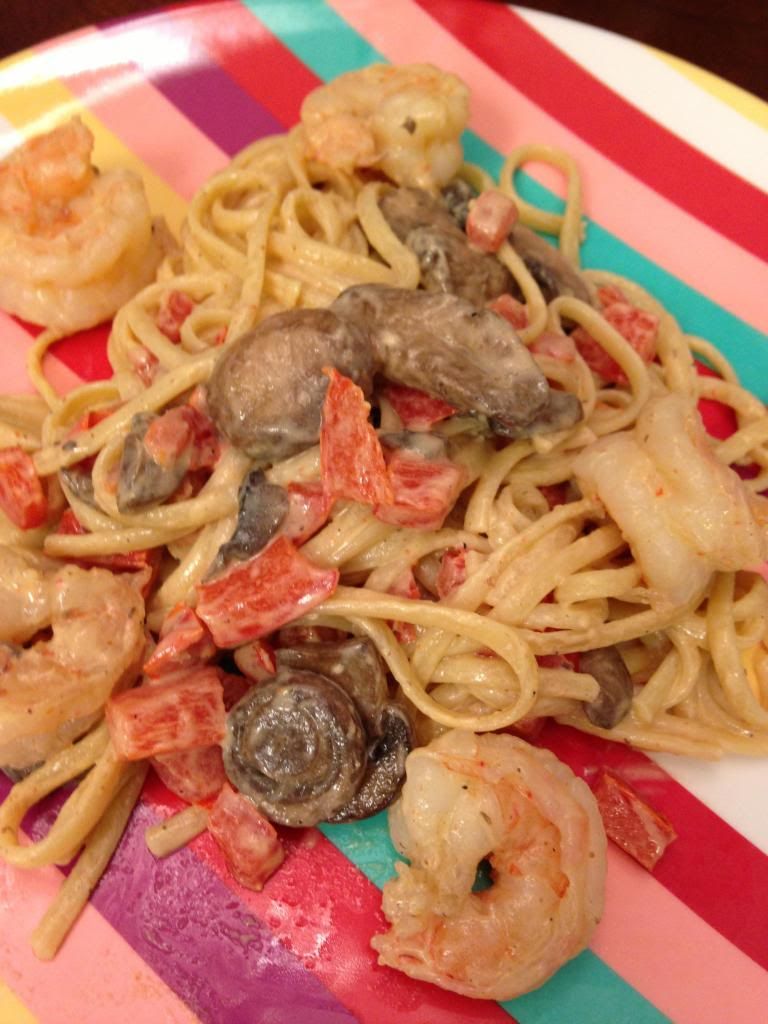 Creamy Cajun Linguine
1 cup water
14 oz chicken broth
8 to 10 oz uncooked linguine
1 lb shrimp, peeled
1 1/2 tablespoon butter
8 oz mushrooms, sliced
1 red bell pepper, sliced
2 teaspoons flour
1 teaspoon Cajun seasoning (I used Tony Chachare's)
1/4 teaspoon salt
2/3 cup fat free half and half
Combine water and chicken broth and bring to boil. Cook pasta in the mixture for 8 minutes. Add shrimp. Cover and simmer for 3 minutes. Drain and set aside.
Melt butter in a large skilled over medium-high heat. Add mushrooms and peppers; sauté 30 seconds. Stir in half and half. Cook 1 minute until thick, stirring constantly. Remove from heat and add pasta/shrimp mixture to the pan. Toss.
I served it with a Caesar salad and it was perfecto! Stay tuned for another amazingly delicious dinner from eMeals next week!