Your mission, should you choose to accept it:
Locate several, or even one or two, versatile tunics or long tee-shirts (not maternity) that can be worn with leggings.
This message will self destruct in five seconds.
Well, not really, but ya' know. I had to go with the whole Mission Impossible theme. ;)
So far, I've only been able to find this one at Target. As well as coming in grey, which I find to be the most versatile color. It also comes in black (ick) and taupe (even more ick). Black washes me out and taupe is even worse.
I don't even need tunics, per se. I'd be happy with a t-shirt that covered my booty. Or a long button-up shirt that I can belt. I mean, these shirts are impossible to find! Even sweaters stop right above my bizzness. If you know what I mean. And sorry, but there's nothing attractive about that in a pair of tight leggings.
I mean, in my humble opinion, the only time a girl should wear leggings with a shirt that doesn't cover it all up is when she's running . . . or doing cross fit . . or doing some other sweaty exercise that requires lots of moving around and cardio activity.
And here's my 10-week belly shot (as well as my garage door that needs to be pressure washed), just for you. ;)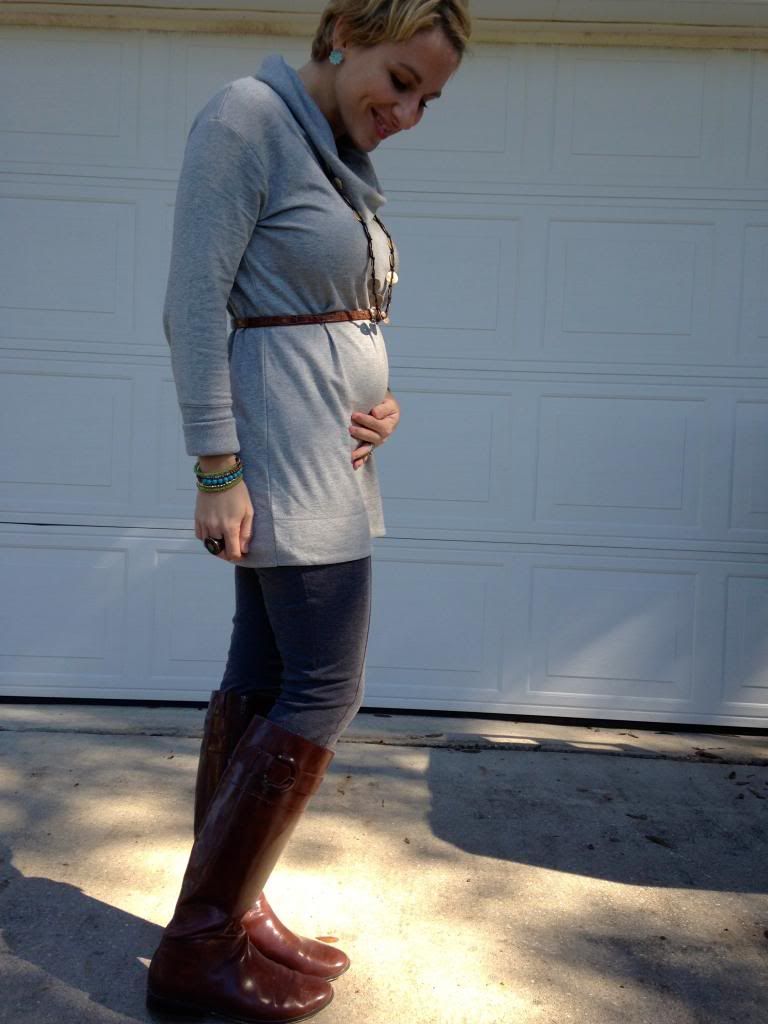 Okay, and on that note, I'm signing off. If you happen to accept this mission and find me a tee or top that you think will work as my belly grows and I don't want to wear anything other than stretchy leggings, let me know! =)
Linking up today with Passion for Fashion, Plane Pretty, Monday Mingle, Still Being Molly and Monday Bloom. Check 'em out!