Whenever this little miss is being bossy, I call her Missy Missy. Well, that's kind of a lot. Missy Missy is going to be a great big sister. I mean, great in such a way that she is going to loooovvve bossing her little sister around someday.
Sweater & Jeans: Secondhand
When we were playing school yesterday…
MM: Blah, blah, blah, blah (about teachery stuff)
Me: (browsing the internet on my phone): Uh-huh…
MM: (walks right up to me) I SAID put youse phone DOWN.
Me: (sets phone down in my lap.)
MM: Grabs phone out of my lap and sets it on the table and looks me in the eye) If you 'bey, I will give you a book to wead. But if you disobedient (It's weird how well she can pronounce that word), I not give you a book!"
Shirt: Old Navy Maternity
Vest, Jeans & Bracelet: Kohls
Boots: Sam & Libby for Target
Necklace: Premier Designs Jewelry
At the movies, the other day…
MM (very loudly): Momma, I hungwy.
Me: (whispering): Wait, just a few minutes.
MM (five minutes later, loudly): I sooooo hungwy, momma.
Me: (I rummage around in my purse and find a jackpot of m&ms.) Here, have a few m&ms.
MM: (five minutes later, even louder): I steel so hungwy, momma. Pease can I have popcorn?
(Now it was her first time at the movies. How does she know about popcorn?!?)
Daddy (leans over and takes Avi): C'mon, baby. Let's go get you some popcorn.
At Target, yesterday looking at baby clothes.
MM: Momma, we HAVE to get this blanket for baby Daisy. She weel love it.
Me: But Avi, it won't match her room. Her room is going to be yellow and blue.
MM: But momma, babies don't yike buh-lue.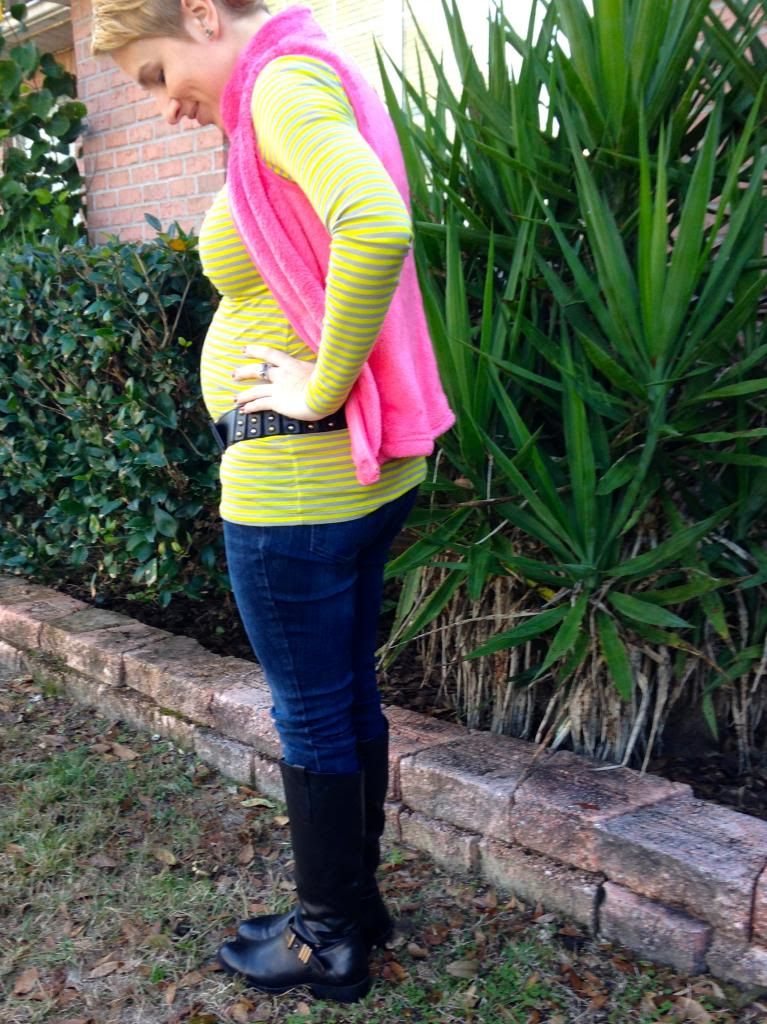 While singing her a bedtime song…
MM: (finished singing Jesus Loves Me with me and utters a big huge sigh) I sing so fetty, momma.
Whenever she sees a baby anywhere.
MM: *squeal* Dat a baby, momma! A baby yike baby Daisy! When baby Daisy come out, momma, she gonna be so coot!
I'm linking up today with Watch What I'm Wearing, Still Being Molly & Monday Mingle.