Only in Florida, do you get to wear a tank top in December one day . . .
And a sweater layered over a long sleeved shirt the next.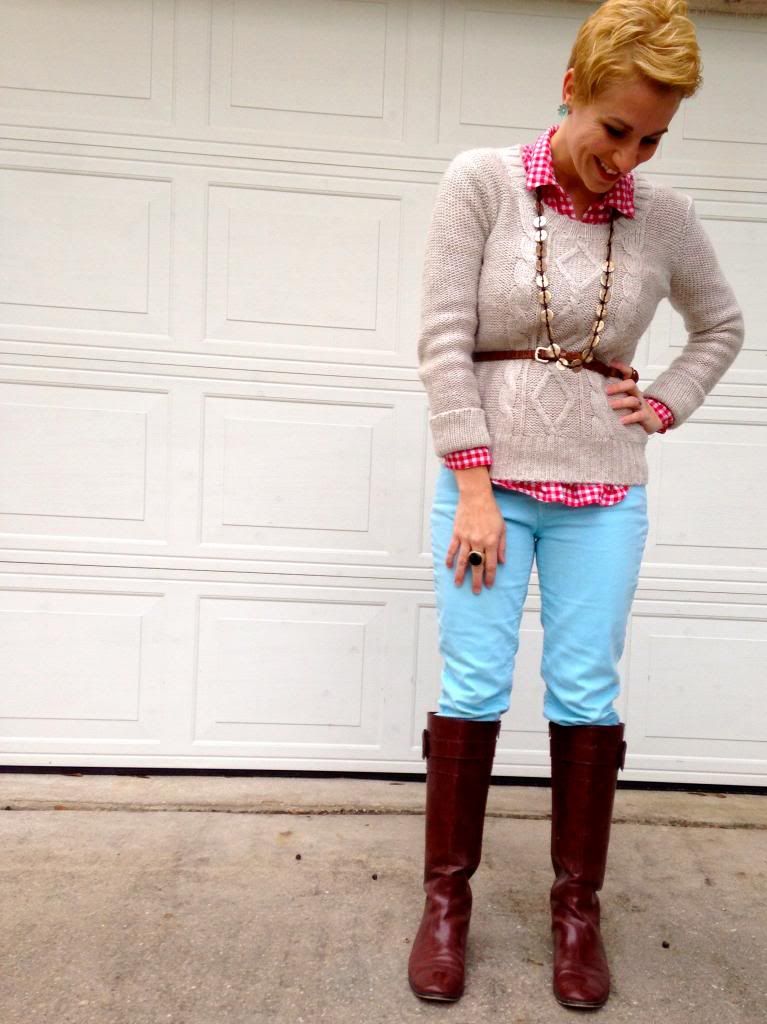 Okay, if I'm begin honest, I didn't actually wear these two outfits on consecutive days. But I very well could have! On Friday, it was 75 degrees. On Saturday, it was 46. Don't get me wrong, I love love LOVE the cold weather in December. I just don't like the crazy weather changes! That's how this preggo ends up sick.
And because she said so, you get this. I mean, when she says to do it, I do it. Because she's that cool. ;)
Making: plans for a fabulous Holidays Around the World segment with my third graders
Cooking :
(in just a minute) fried eggs, sausage and toast . . . because big breakfasts on Sunday mornings make me happy.
Drinking :
white chocolate macadamia creamer, with a little bit of coffee
Reading :
Christmas books with the kidlets by the Christmas tree. I mean, not literally right this second, but that's what we've been reading lately.
Wanting :
to pair my new red skinny jeans with a black & white striped shirt and my new white puffy vest. Yes, I did a little shopping. =/
Looking:
forward to next weekend. The kids will be with my parents for the weekend and I get two solid days of . . . silence!
Playing:
Mousetrap. My Little Guy loves it.
Wasting:
time on Facebook. I think I have a problem.
Sewing:
nada. This momma can't sew. =/
Wishing:
that I could sew. There are entirely too many "easy" projects on pinterest.
Enjoying:
sleepy cuddles on the couch this morning, while the kids watch Curious George
Waiting:
for my new red skinny jeans to arrive.
Liking:
my third grade class so very much this year.
Wondering:
how long this quiet, peaceful cuddle time will last
Loving:
that my kids are currently not fighting. They've been quite the little bickerers lately.
Hoping:
that maybe, just maybe, we'll get snow in Florida this year
Marveling:
that at 14 weeks, I could tell baby Daisy already looks like her big sister
Needing:
to go for a run, but I'll put it off to tomorrow
Smelling:
my delicious creamer coffee
Wearing:
jammies (I love lazy mornings.)
Following:
lots of pincers that are doing all kinds of amazing Christmas crafts and feeling a little inadequate that we've yet to do a one. But I did buy an adorable Ninjabread kit from World Market yesterday. Little Guy will love those!
Noticing:
that the kids are starting to get restless.
Knowing:
that I better get moving before they get to bickering.
Thinking:
about the massive, unhealthy breakfast that I'm about to consume.
Feeling:
30 weeks pregnant which bodes really well for the next 25 … Grace couldn't have said it better.
Bookmarking:
slowcooker soup recipes… because homemade soup is the best on a cold night.
Opening:
a box of chocolate covered cherries. I know it's only 7:30 am, but I'm obsessed with these little gobs of deliciousness.
Giggling:
at the faces Avi is making because Gabe currently won't stop watching George and walk her into her bedroom to get her blanket off of her bed. I mean, her room is literally 15 feet from the couch, yet she is unable to get their by herself.
Feeling:
perfectly content. Favorite day of the week, during my favorite time of year, with my favorite people in the world. Yep, life is good.
You should do this too. It's fun and it wastes all kinds of time. =)
Finally, here's a great 14 week belly shot for you. Seriously, tell me that belly doesn't look about 25 weeks pregnant!
I'm linking up today with Passion for Fashion, Watch What I'm Wearing, Monday Mingle & Still Being Molly. I hope y'all have a beautiful Sunday!