I think my new "thing" is going to be three themed posts. =)
Okay, so you guys. Check out my failed attempt at the one legged pose below.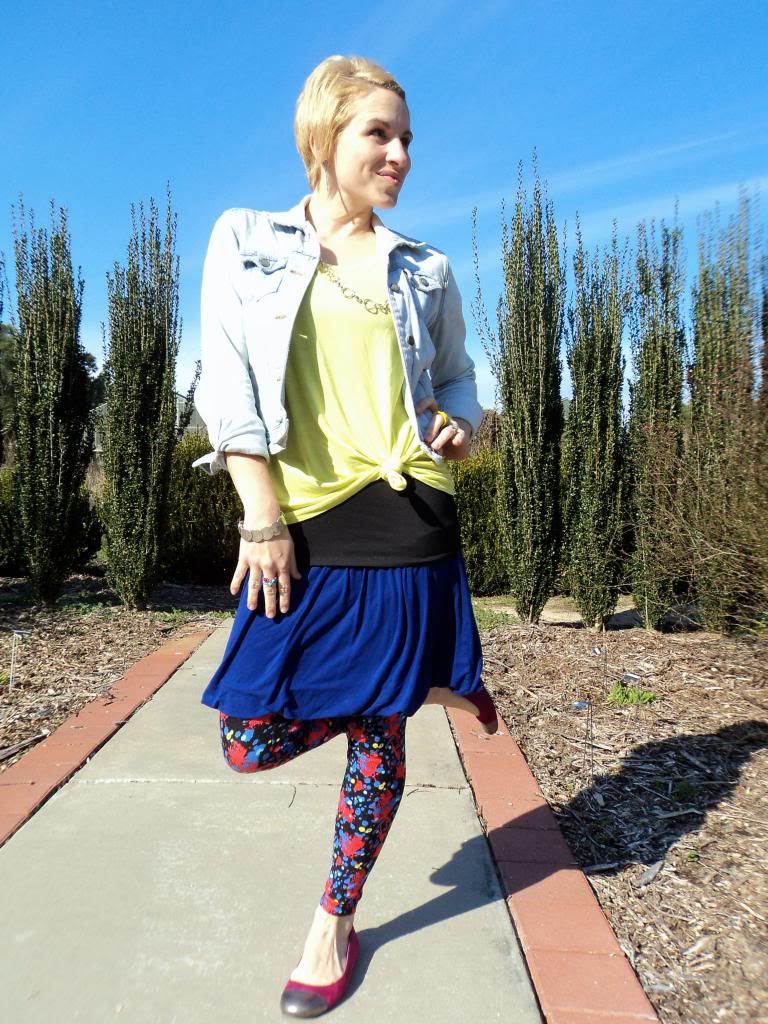 Skirt, also worn here in an eerily similar outfit where I was actually in costume (Express)
When I wore this on Saturday, I thought I'd have a little fun with the photo shoot and try some different poses. Two little measly shots into my glamorous photo shoot, my camera died! So, the only full body shots you get are of me trying to balance my very ungraceful self on one leg!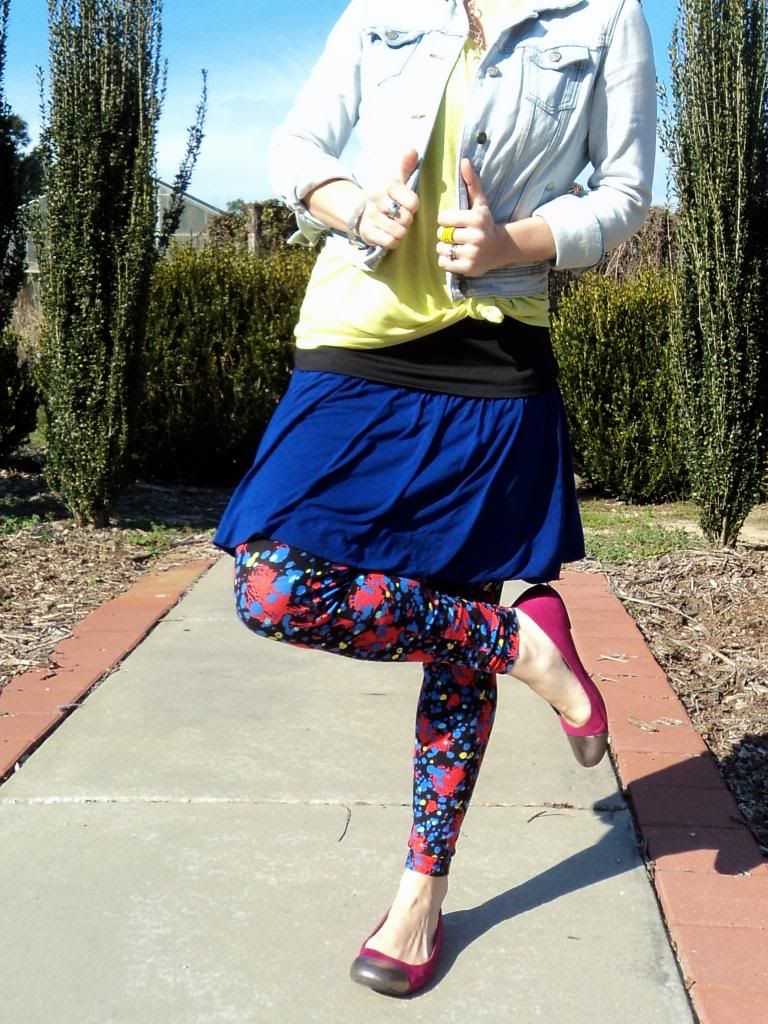 In this photo, you can actually see that I'm starting to fall over!
Well, what did I do when my camera died, you ask. Like any self-respecting fashionish blogger (yes, I make up words. I'm a teacher I can do that!), I whipped out my Iphone and proceeded to snap as many shots as I could before my children either spilled something on my bright top or pulled my skirt down to my ankles (that literally happened).
And here are the best ones. =)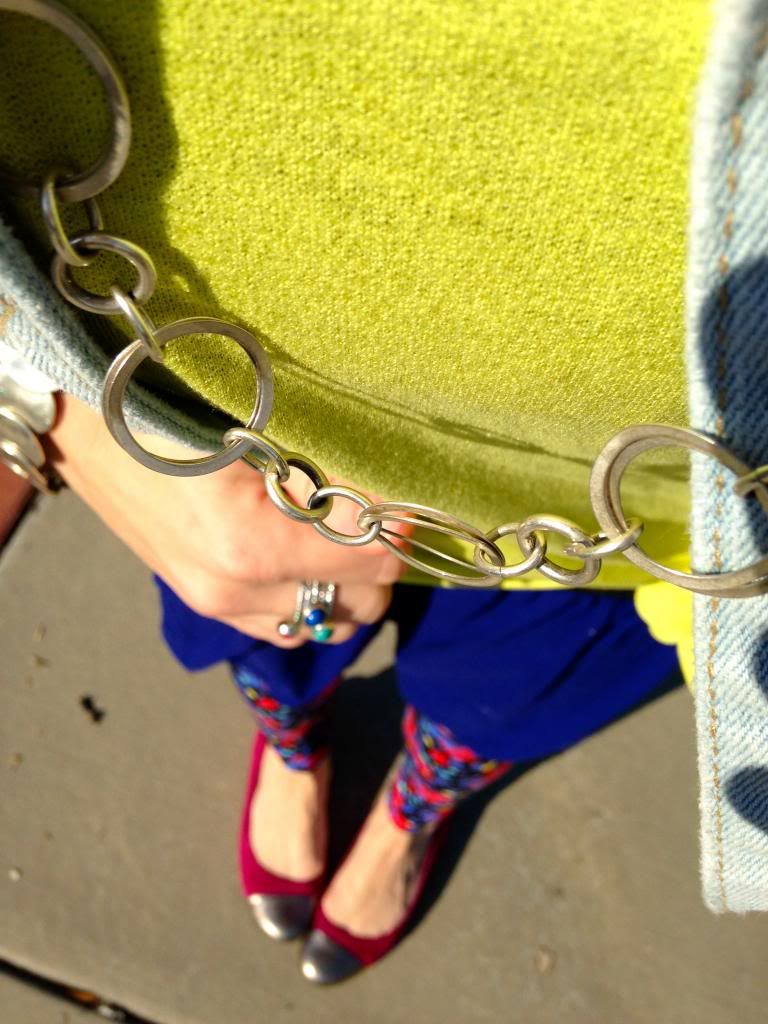 Jewelry: Premier Designs Jewelry
Just because I triple heart love and adore these leggings, here's another shot for you. Do you want to know a secret? When I was talking to my fellow teachers in the lounge about these leggings, I acted so very upset that the leggings hadn't arrived in time for 100th day of school and said that I had simply NO idea how I'd ever wear them. Well, the truth is, I loved them even then and was pretty sure they would pair nicely with my cobalt blue bubble skirt and a neon top.
But here's the thing... outside of the blogging world, where do you see a 33-year old woman wearing paint-splattered leggings? Maybe last week, it was a sight you would never see, but if you visit the panhandle of Florida, you just might get the chance to see the crazy sight in person.
Finally, here's the drool-worthy food part of the post!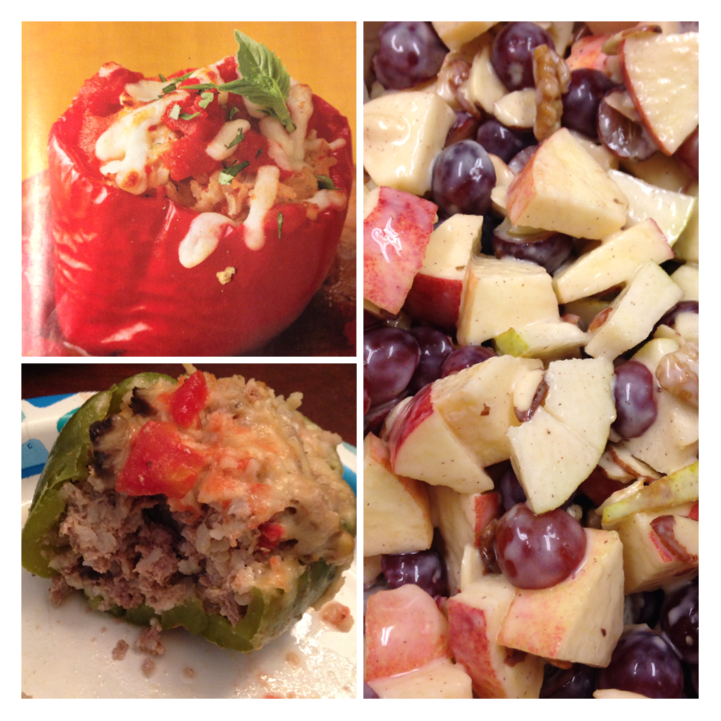 The recipe for the fruit salad can be found here. It is seriously amazing. It's similar to ambrosia, but it has a cinnamon yogurt sauce that is ten times better!
I searched and searched online for the recipe to the stuffed peppers, but I couldn't find it. It was in this month's issue of Fitness Magazine, props to me for making something healthy and mouth-watering!
Slow Cooker Stuffed Peppers
You'll need:
1/4 cup instant brown rice
1/2 lb lean ground turkey
1 tsp Italian seasoning
1/2 cup chopped onion
1/2 cup grated Parmesan cheese
1 15-ounce can diced tomatoes
2 cups reduced-sodium mozzarella cheese
4 red or green bell peppers, cored and seeded
First, cook your rice.
Then, mix the rice, turkey, Italian seasoning, onion, Parmesan cheese, 1/4 cup tomatoes and 1/2 cup of cheese. Fill the peppers with the mixture.
Spray the slow cooker with a cooking spray and put the peppers in the pot. Spoon the remaining tomatoes on top of the peppers and into the pot. Top with mozzarella.
The recipe says to cook on low 8 hours. Or you could fast forward like I did and cook it on high for 4 hours. =)

I'm linking up today with Watch What I'm Wearing, Dear Abby Leigh
,
The Pleated Poppy
and
Transatlantic Blonde
!