Not all that long ago, you could spot a mom trying to relish a few moments of shopping alone just from her clothing. I mean, we've all heard of the term "mom jeans!" In the not so distant past, moms were known for their lack of style. It's like we had children and suddenly, we were no longer allowed to wear frilly skirts or cute shoes. We had to trade in our heels for scuffed up running shoes because, well, let's face it. We'd be doing a lot, I repeat A LOT, of running after that toddler on a daily basis.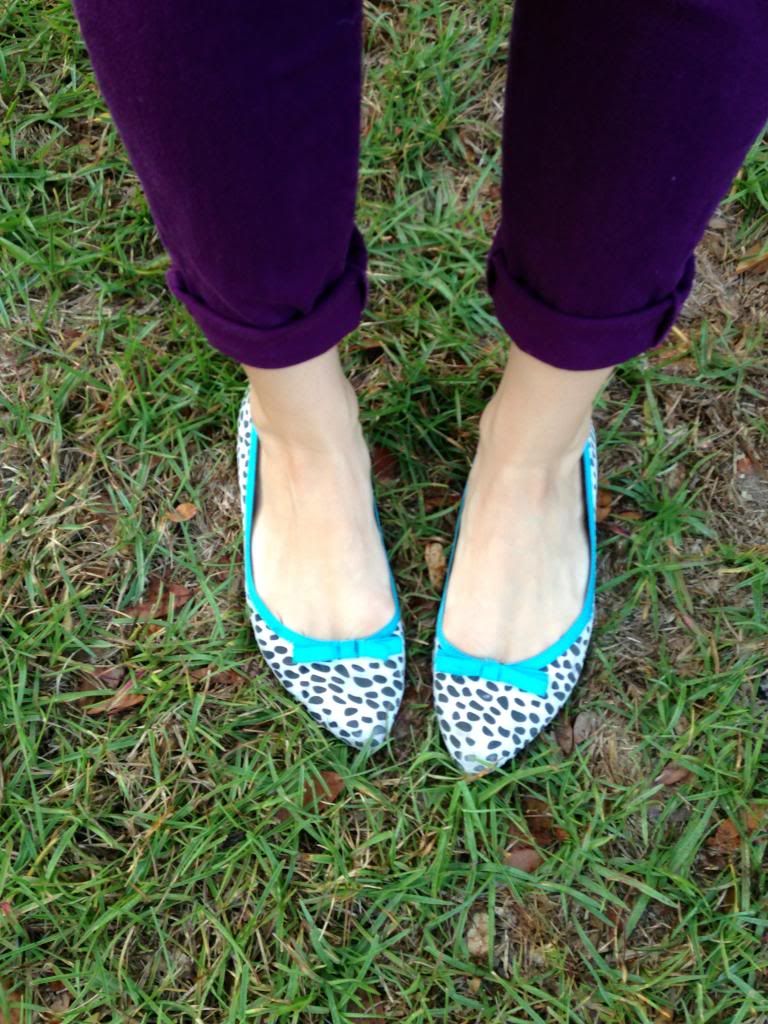 Flats: Target ($5, on clearance)
And if you're like me and you're a working mom, then it's easy enough to find excuses for wearing that same ole pair of black slacks or khaki pants to work each day. I mean, when it takes everything you've got just to get out of bed in the morning, putting together a stylish ensemble can be too much. Not to mention, that in the past, moms have fallen into the "I can't wear that because I'm a mom" trap.
You know, we've been able to find cute and stylin' moms, but they've always been the ones that are wayyy up there. You know, the adorable Jessica Albas and Isla Fishers of the world. Basically, they're in Hollywood or NYC, and yes, I guess they give moms hope that there is stylish life after the bump. But still. When I see those moms, I just think, "Well, of course, they look good. That's what they get paid to do. They have hundreds of thousands of dollars to spend on cute clothes and they have nannies and all that jazz." So, yeah, while they are totally stylin' with their cute babies and toddlers, I still want to sit back and say, "But I'm just a normal person. I can't do that."
But here's the thing, ladies. Times are a changin'. We can do that! There are all kinds of adorable bloggers popping up to help us with our style. We've got gorgeous Jill at Glamamom, the stylin' ladies at BonBon Rose Girls, the adorable mom and daughter pair at Style Journey and the incredibly cute and witty Tricia at The Domestic Fringe. The truth is, I can go on and on, listing bloggers that are putting themselves out there and showing the real world that not only do we know how to get dressed, but we can actually be fashionable about it, too! These are real ladies, not movie stars, who are showing the rest of us that we can still be fashionable and stylish, even with tots and babies on our hips.
Ladies everywhere are breaking free of the Mom Style rut! They're tossing out their boring mom jeans and hopping into colored skinnies. They're trading their scuffed up running shoes for cute flats and sparkly sandals.
So, here's to me and you, not running away from "mom style", but embracing it! Because I'm learning that "mom style" doesn't have to mean frumpy. It doesn't have to mean boring. It simply means that I can do my thing, while chasing kids and cooking dinner and teaching third graders (that one's just mine). And you know what? We can pass for cute and stylish while doing it all!
I'm linking up today with The Pleated Poppy, Wardrobe Wednesday, Dear Abby Leigh, Transatlantic Blonde and Rolled Up Pretty.