Outfit #6 is brought to you by the sundress. You really can't go wrong with a sundress. You could throw a cardigan button-up shirt over it if you wanted to wear it to church or work. Or you could bear your shoulders to the sunshine if you were just hanging around with your kids.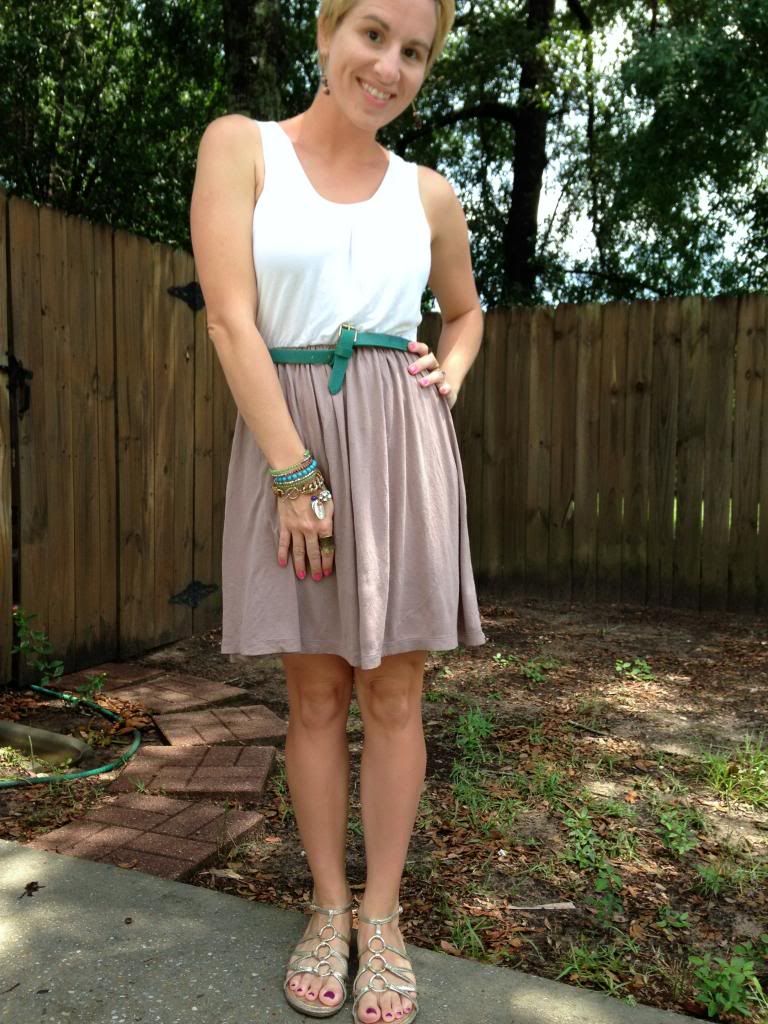 Which is what I did. Can I make a confession to you? I always thought SAHM moms were exaggerating when they said they didn't get dressed all day because they just didn't have time. In my little mind, I thought that certainly a mom could take a few minutes to get dressed even if she had no place to go. Um, hello, wake-up call, nice to meet ya.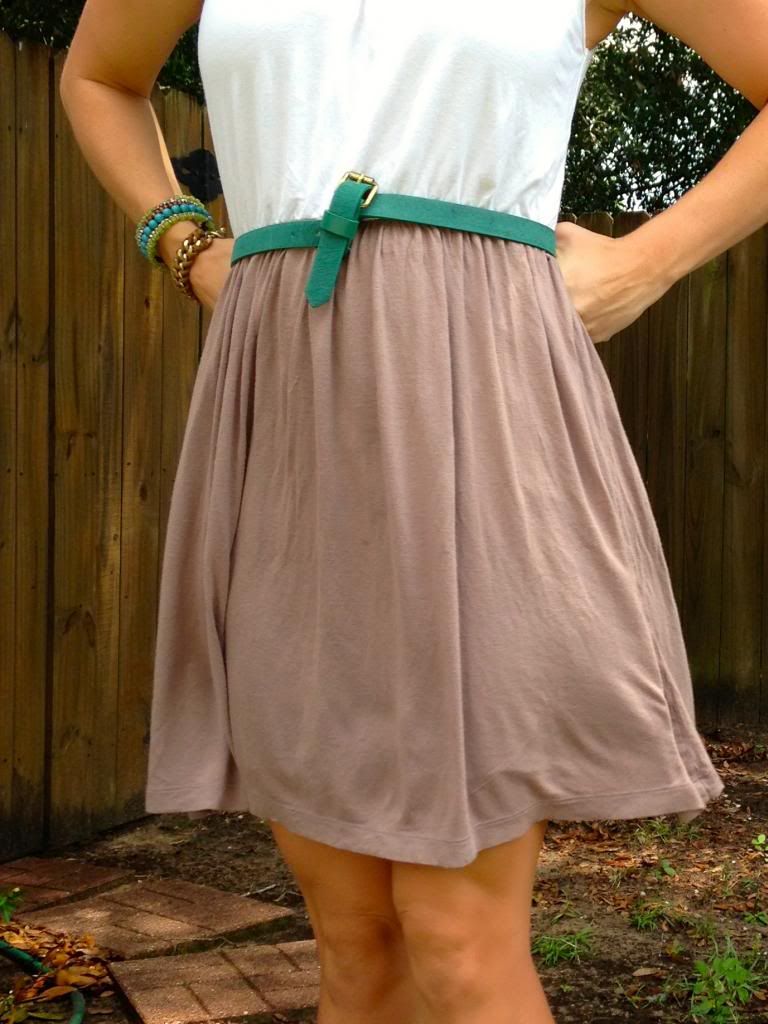 My morning yesterday was so busy (a run, a quick shower, clean up the house, swim laps at the pool about 40 minutes away) that I wasn't able to get for real dressed until about 1:30. At this point, do you know what was running through my mind?
Really, do I have to put on something cute? I'd much rather run around in pajama shorts and a tank top! However, since I swore to complete this 30 for 3,. I got dressed. I had nowhere else to go, but I got dressed anyway. At least my husband had something worth looking at when he got home, right? ;)
And now I want to take a quick minute to share a recipe with you. I am 100% sold on eMeals
. I've been using them now for about 5 or 6 weeks and nearly every meal I've made has been amazing! One of my favorites was BBQ shrimp.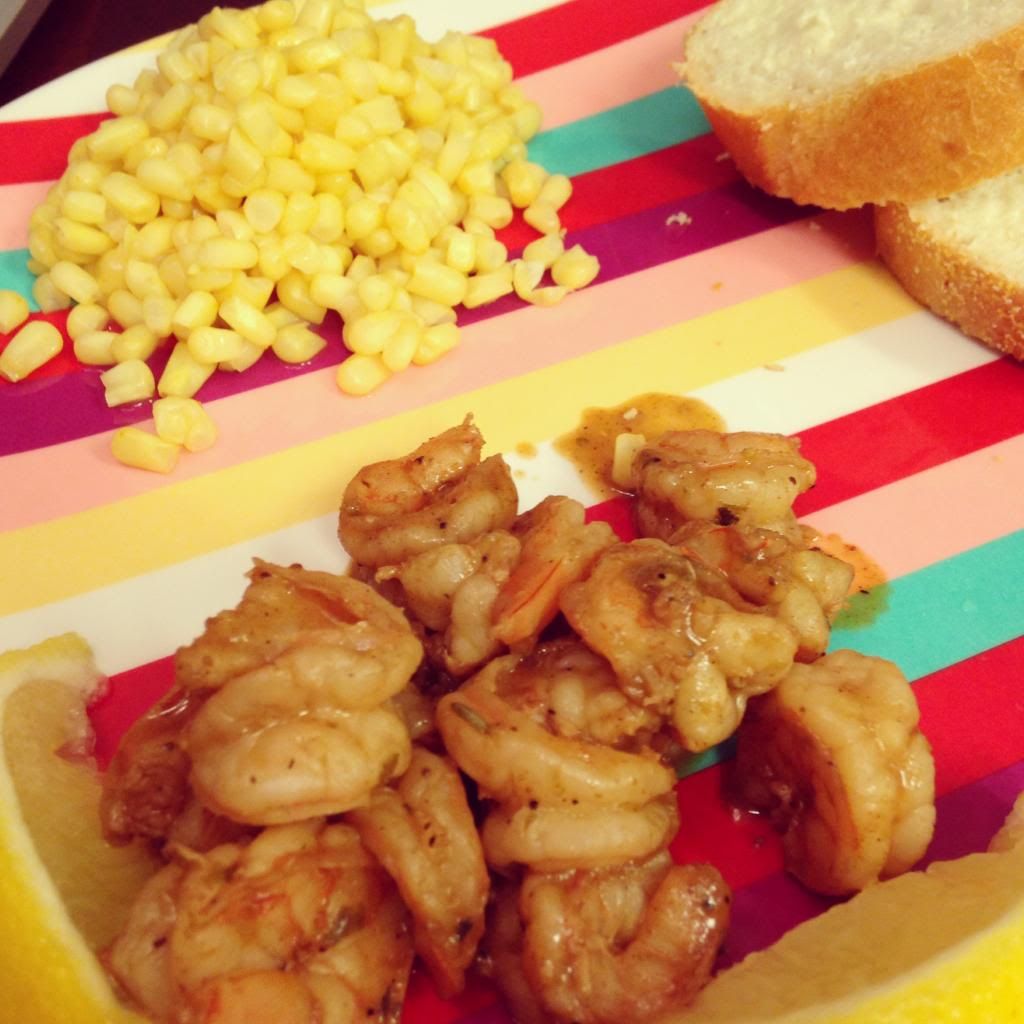 It may not look like much, but that's only because my picture taking capabilities are severely lacking...
1/4 cup fat-free Caesar dressing
3 tbsp Worcestershire sauce
1 tbsp butter
2 tsp dried oregano
2 tsp paprika
1 tsp dried thyme
1 tsp pepper
1/2 tsp hot sauce (Tabasco)
2 bay leaves
3 cloves garlic, minced
1 1/2 lb shrimp, peeled
3 tbsp white wine (or chicken broth)
2 lemons, wedged
Combine dressing, W sauce, butter, oregano, paprika, thyme, pepper, hot sauce, bay leaves and garlic in a large nonstick skillet. Bring to a boil and add shrimp. Cook about 5 minutes, stirring occasionally. Add wine (or broth) and cook 1 minute more until shrimp are done. Serve with lemon wedges, corn and slices of French bread.
You have got to make this sometime! It's amazingly delicious. I think it would pair wonderfully with steak. You know, a little surf and turf always goes well together.
If you're interested in trying eMeals
for yourself, feel free to use the code Fourth for 15% off through February 10th! Also, if you sign up now, you get a 4th of July menu and a summer vacation menu free!
I'm linking up today with Mix & Match Fashion.