*gasp* If you know me, you might be a bit in shock that I'm sharing a Paleo certified recipe with you. It's not that I'm anti-Paleo (at all!), it's just that I kind of love my junk food. However, I've been toying with the idea of going Paleo at least for dinner because eMeals
has a Paleo recipe plan that would make it so incredibly simple! You can even preview a sample Paleo meal plan before you sign up. And if you do sign up, you can save 15% with the code fourth.
One of the recipes that jumped out at me this morning as I was perusing their site was a recipe for Bacon Wrapped Shrimp. Um, hello?!? I love bacon. I love shrimp. I could totally eat Paleo if this is what I get to eat. Of course, I might miss my bread, but we'll see.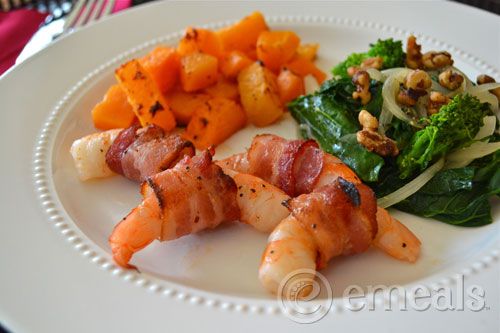 Bacon Wrapped Shrimp with Garlic Oil, Roasted Butternut Squash & Sauteed Rapini with Walnuts
I'm only allowed to share one of these recipes with you at a time, so I'm going with the shrimp today. If any of you are dying to know how the squash and rapini are made, let me know and I'll feature them in a later blog post.
18 slices of bacon, halved
36 large shrimp, peeled and deveined
1 tbsp honey
1 tsp water
1/2 tsp ground black pepper
2 tbsp olive oil
2 tbsp sliced garlic
Cook bacon in a pan until it is cooked, but still soft and pliable. I use my George Foreman grill because that just makes it easier. Combine honey and water in a large bowl. Add shrimp and toss to coat. Sprinkle with pepper. Wrap one piece of bacon around each shrimp. Divide the shrimp evenly among six skewers. Preheat broiler. Place skewers on a baking sheet and broil 3 minutes on each side, or until they're done. Combine oil and garlic in a small saucepan over medium heat. Cook 4 minutes or until garlic begins to brown. Drizzle over cooked shrimp skewers and serve additional oil on the side for dipping.
Yum, right?!?
Okay, now for the Mom Style! Outfit #12 is brought to you, once again, by the Vikes tank.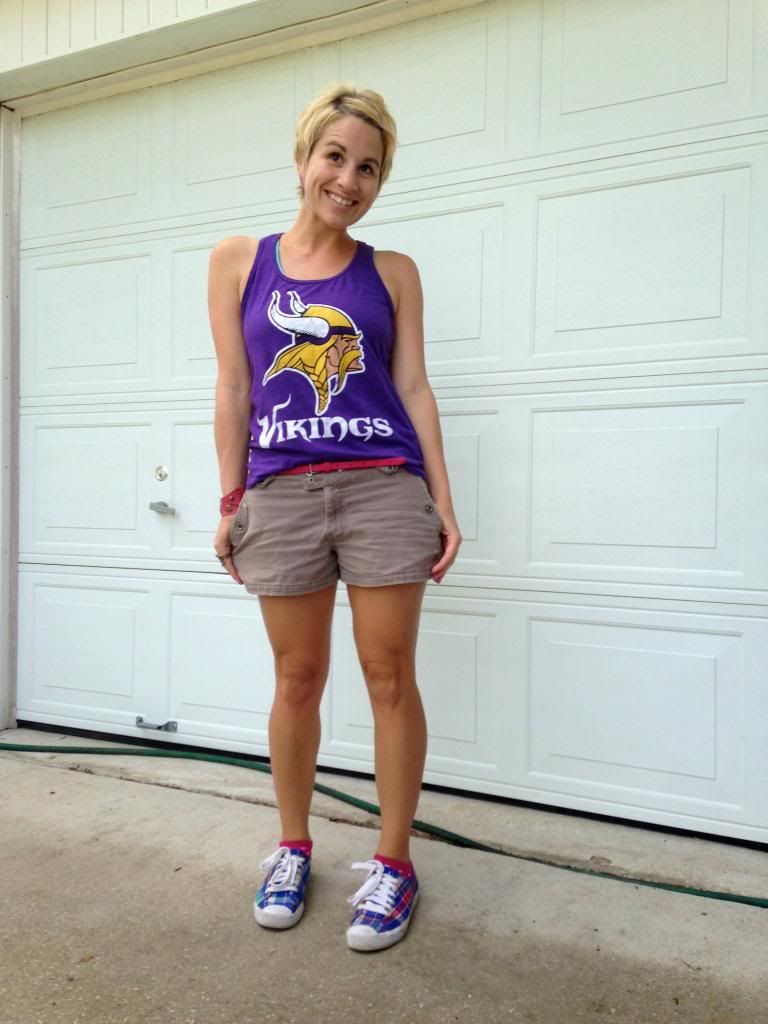 Tank: F21 (Also worn here)
Shorts: Kohls (Also worn here)
Wrap Bracelet & Ring: Target
I almost got away without wearing a single item from Target... but not quite. ;)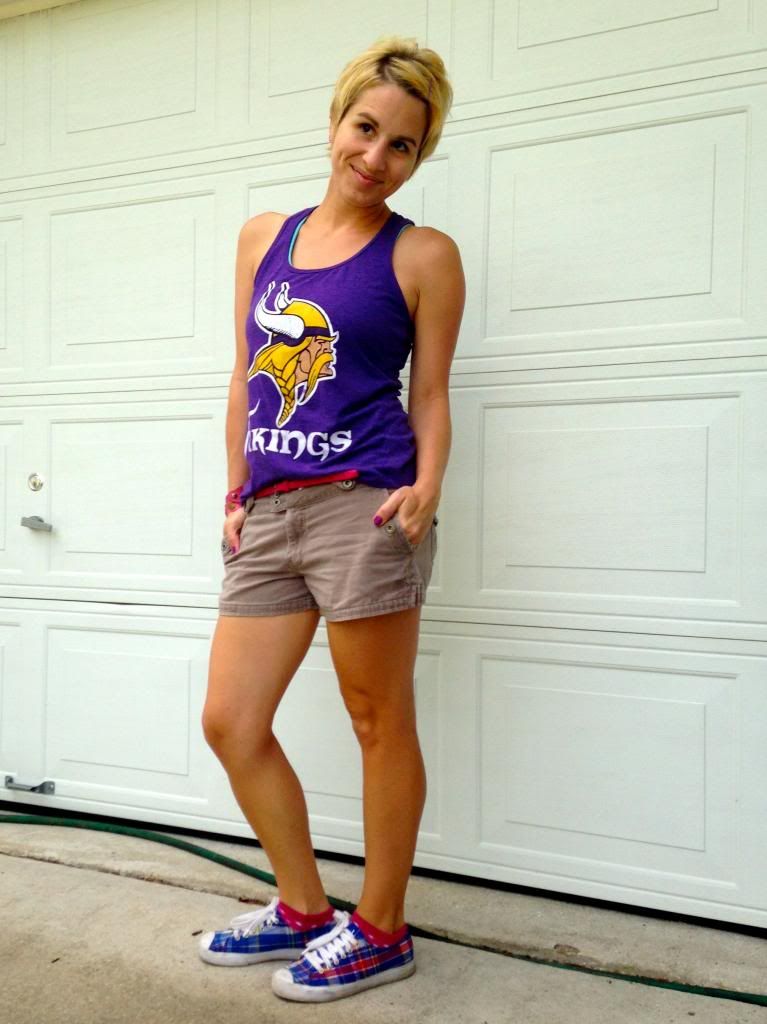 This outfit is kind of perfect for getting down with the kids. We played outside, went to swim practice, went for a walk. Then I filled out invitations to my sister's baby shower, while the kids napped. So, yeah, a very versatile, real life outfit, right here. It's difficult for me to get used to wearing and posting such casual, almost boring outfits. But it's been incredibly easy to get used to wearing them! I am thoroughly enjoying my first summer break with my kids!
I'm leaving you today with a question that has nothing to do with fashion, but it does have to do with food! How many of you eat the Paleo diet? Are you strictly Paleo or do you allow yourself to indulge? What do you miss most about junk food? Or do you not miss a bit of it?
I'm just curious. You may see this Southern/Italian/Junk Food Eating girl trying a Paleo meal or two in the near future. Maybe I'll even enjoy it. ;)
Oh, one last thing... I've heard rumors for months about Google Friend Connect disappearing on July 1st. That's the little follow me button over on the left sidebar, so if you follow me via GFC and you already have a Bloglovin account, could you possibly follow me on Bloglovin? Thanks a bunch!